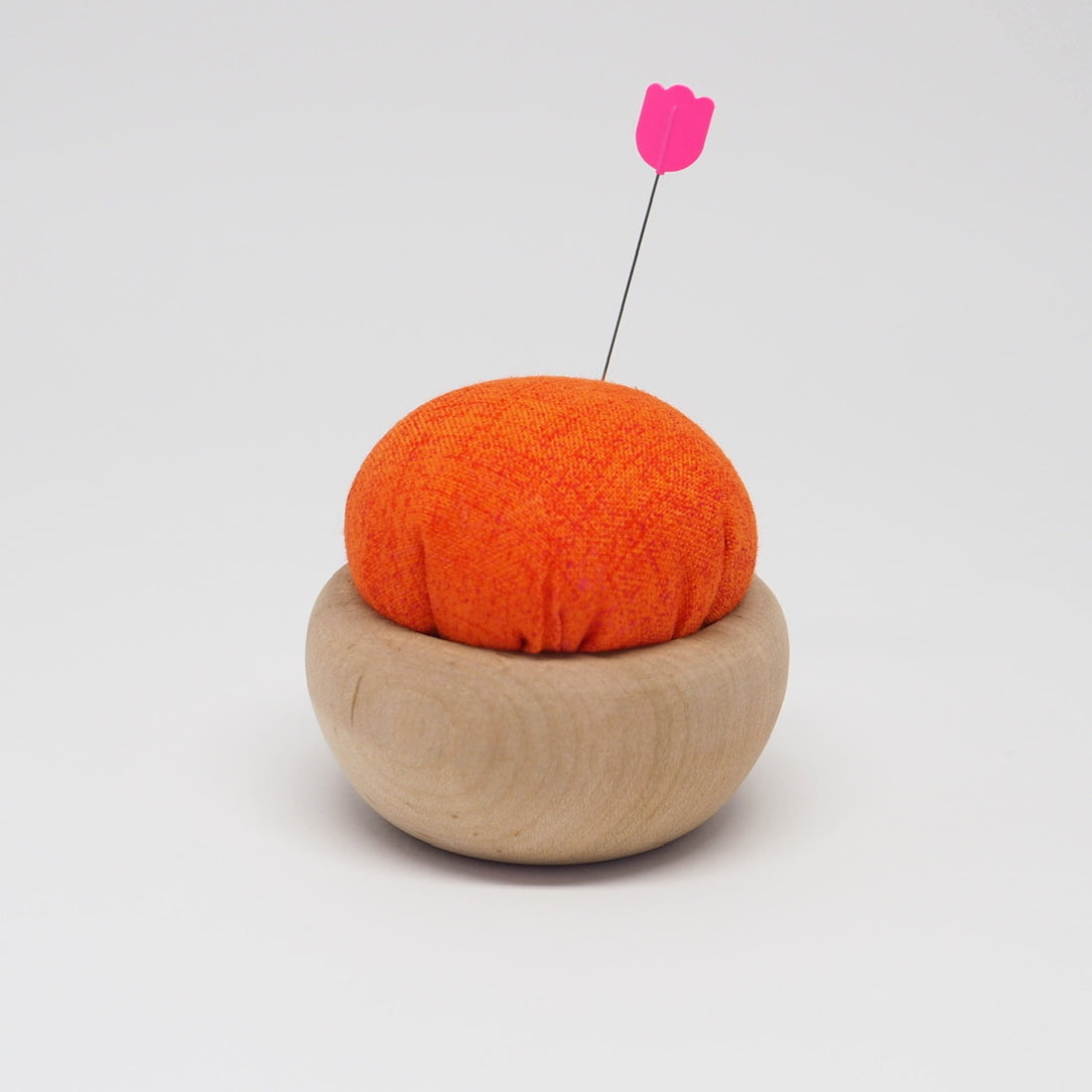 TULIP CHERRY WOOD PIN CUSHION - AKANE-IRO (BRIGHT ORANGE)
Info
Materials
Packaging
Shipping
These Tulip Cherry wood pin cushions will make a great addition to any sewing room and project.  Not only are they beautiful in looks but beautifully and thoughtfully made.

Tulip have created these to represent the 12 months of the year - Akane-Iro represents August in Japan and is a time when nature is filled with vitality in the summer.  Akane-Iro reminds you of the magnificent evening glow in the summer sky.
As the material for the pincushion base, Tulip have selected gentle-looking cherry wood from various kinds of wood. Giving importance to maintaining a texture and appearance unique to the natural material, they have designed the base to be comfortable to the touch and provide steadiness for your needlework.

For the cloth and padding Tulip have placed the highest priority on having needles go smoothly into the pin cushion and have selected thick, high-quality cotton sheeting as cloth. With a very smooth and soft texture, the cloth helps you easily insert needles into the pincushion.  They have also carefully selected the padding material to prevent your needles from rusting even during long-term use.
Diameter - 54mm
Fabric - 100% cotton
Padding - 100% polyester
Base - natural wood
Pin Head - cellulose
Pin Shaft - stainless steel
Made in Japan

Packaged in a clear firm plastic box with cardstock. Pin is set in cork.
Your order will be packaged plastic free. We use kraft paper, tissue paper, kraft tape, recycled cardboard boxes and occasionally Sendle compostable satchels.
Free Shipping over $200. For Under $200, we offer a range of options from $10. MORE INFO >